Management Review
This is a review of your management system to assess whether it is effective and suitable for the organisation. The standard requires that certain topics be reviewed, by "Top Management".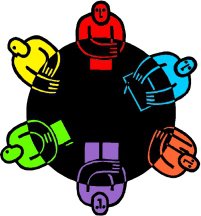 A common approach is to conduct the review in a meeting. These Management Review meetings are an important opportunity to bring together an overview of the management system, to assess it's performance, and to identify any opportunities where it can be improved. Held at least once per year, it's also a time to review the company's quality policy and set new objectives for the coming year.
It's essential that "top management" be involved.
The agenda should include a review of:
internal and external audit findings and reports
customer feedback – look closely at the negative feedback, but don't leave out the positive feedback – it's valuable data too (and nice to hear!)
supplier performance
all issues raised or resolved since the last review to make sure problems are being resolved properly, and to look for trends in the data
process performance – is the process reaching/maintaining performance targets?
any changes to standards, regulations, technology, competition, staffing, and other business activities that could affect the quality system
improvement requests
To be effective, attendees need to come to the meeting prepared with data, and be ready with some conclusions drawn from the data.
It looks like a long list (!) but there's no reason you can't break it into smaller chunks, and if you review some aspects in other meetings there's no need to repeat it. In fact, 'Management Review' does not even have to happen in a 'Management Review Meeting'. You will need to make sure you have records that show you have covered everything, however you do it.
At the end of the management review process you will need to record any decisions and actions to be taken to improve the management system, product, and/or processes, and what resource needs have been identified.

Download an Agenda and Meeting Minutes template for Management Review