Configure the Project
Project title & logo, customise drop-down lists, change available types, add and remove modules
Project Settings
A 'Project Manager' con configure the project settings via the "Settings" tab (click on the gear icon on the right hand side).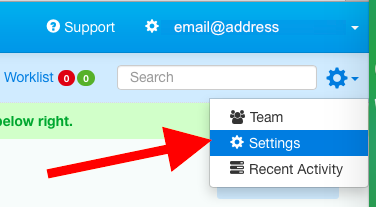 Configuration tab: Title, Logo and Module selection
Set the Project title (1), logo (2), description (3) and select which optional modules should be included (4).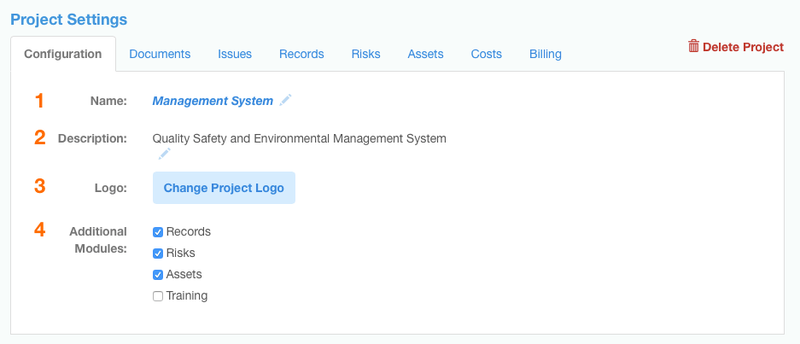 The Project title is displayed on the Dashboard along with the logo, which also appears in the header of pages if you print.
Base Modules
All Projects in Toolbox include the three base modules:
Tasks - schedule and assign tasks. Used for improvement projects, action plans to achieve objectives, audit schedules, training plans,...
Documents control of documents - storage, approvals, version control, access control, for policies, procedures, work instructions, forms, templates, etc.
Issues Non-conformance & Corrective actions - Supplier problems, customer complaints, safety & environmental issues, & any other issues you deal with.
Optional Modules
Check the adjacent box to select which optional modules are added to the project.
Records - scheduled collection and storage of all kinds of records - meeting minutes, site inspections, reports, reviews, audits, daily work sheets, safety toolbox talks, etc.
Risk - identify, assess and manage risks
Assets - register of plant & equipment, calibration & maintenance scheduling and records
Training - Assign roles and competency requirements, manage training records, identify gaps.
Contacts - contact information for key contacts
Incidents - capture safety incident information for Injury, Illness and near miss, and report on trends.
Be careful deleting optional modules from your Project, as this is destructive and you will lose any data in the module.
Vocabulary Lists & Module Settings
The dropdown lists in each module can be configured under the corresponding tab for the module in the settings area. Some modules also allow you to set a default value for particular fields.
Vocabulary terms in the drop-down lists can be added, edited, deleted and reordered.
Note that if you change an existing vocabulary term, Toolbox does not update associated content. These items will still show the old term.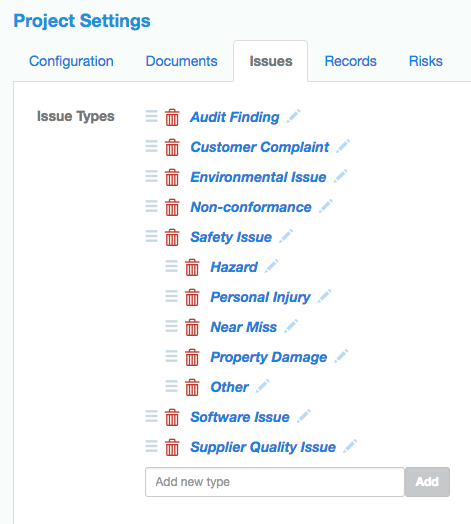 Click on the pencil icon to the right of a term to edit it.
Click on the trashcan icon to delete a term.
Click and hold the 'drag' icon (three stacked lines) to the left of a term to reorder the position in the list. Some lists allow a 2-level hierarchy (as in the Issue Types list shown above). Drag the term to the right to place it at the 2nd level (e.g. 'Hazard' is the second level under 'Safety Issue'). Watch the blue highlight rectangle shift position as you drag the term.