Processing an Issue with Responses
This version of Quality Systems Toolbox is no longer in use. Current documentation for v3 is here.
As the issue is dealt with, 'responses' are added to track the activity and form an audit trail. Since new responses trigger email notifications to subscribers, they can be used as a communication tool for all stakeholders affected by the issue.
The Issue workflow moves from 'open', through 'in-progress', to 'closed' and changes according to the category of the response added.
Progress is shown visually.

Any system user may add a response. However, only a 'manager' user or an existing action officer can reassign or change the workflow state of an issue to 'closed'.
Add a Response
Click on the 'Add Response' button to add a response.
Category: There are 6 different response categories. The categories are ordered according to the typical stages in resolving an issue. This number of responses may not be necessary in all instances, and more than one response per category can be added.
Responses can also be added out of order, e.g. you have contained and investigated the issue (documented with appropriate responses) and then want to add further description with a 'describe' response. Responses can be used add to the description of the issue at any stage during the resolution process.
Enter your response here: Give details on the actions that have been taken, or further description of the problem, or propose a solution etc. – the content of the response should match the category chosen.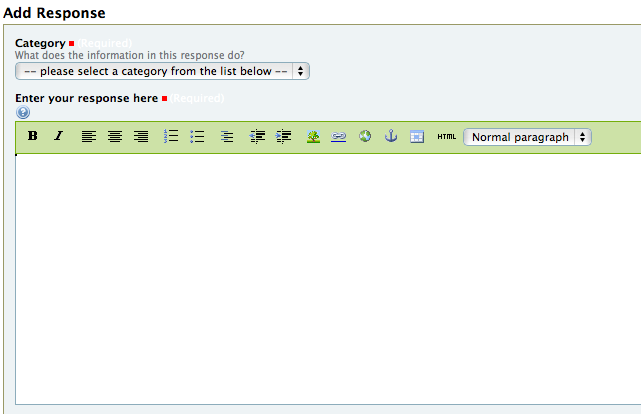 Attach Files, Attach Images: You may optionally upload any files and/or images to support your response. e.g. to document the actions taken (e.g. 'before' and 'after' photos), or to verify the result.
Change Action Officers: Optionally re-assign the issue to the person responsible for the next action. Only an existing (or previous) action officer can re-assign the issue.
Save.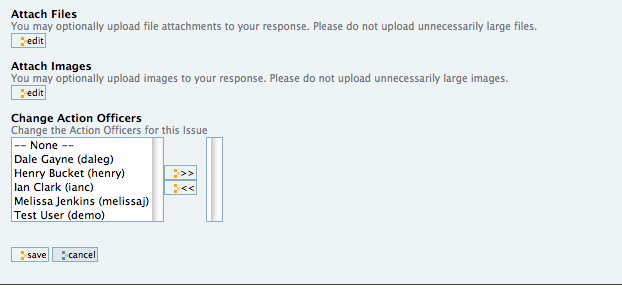 Close the issue
When the corrective actions have been completed, the issue is closed by adding a response with the category "verify". Only a response added by an assigned action officer or manager user will change the status of the issue to 'closed'.