Closing an Issue
Once the issue has been dealt with and the corrective actions have been recorded with responses the final step is to verify that the solution you implemented has actually solved the original problem.
You may need to wait a while after implementing a solution before you can be sure the problem will not recur.

To close an issue, add a response with category "6. Verify that the solution was effective".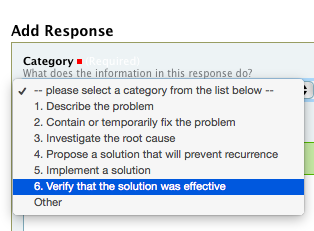 NOTE: While any system user can add a response to an issue, only a "verify" response added by an assigned Action Officer or Manager User will move the issue status to "Closed".
A "verify" response added by other users will still be recorded and shown under the "verify" section of the progress bar, however the issue workflow state will remain as "In-progress".