Assets Overview
The Asset Manager is used to control calibration of all testing & measuring equipment that is used to verify or control quality of your product or service, e.g., verniers, rules, scales, gauges, test equipment. Quality Systems Toolbox can also be used to establish preventive maintenance schedules for all plant & equipment.
Assets Register
This is maintained automatically as assets are added to Quality Systems Toolbox. The front table of the Assets Module is the assets register. It can be printed out as a pdf, or exported as a comma delimited text file (.csv).

Organise
Assets can be organised into different asset types. These types can be customized to fit your specific needs.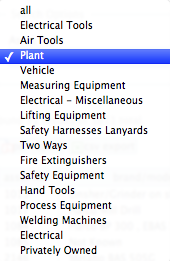 Search
Use the search options at the front of the Assets module to quickly find the asset or assets you need. You might choose to print a pdf 'Assets Register' for a subset of assets – e.g. 'Process Equipment', or maybe all assets assigned to 'Paul'.

Find one asset by searching for a particular serial number, or get a short list of assets by setting the search options to filter the list of assets by asset type, who it's assigned to, and/or by status.
You can also search for specific text to find the asset you are looking for, either within the assets module, or with the global search at the top right. With a global search, your results will include all content in your site that relates to the text you enter.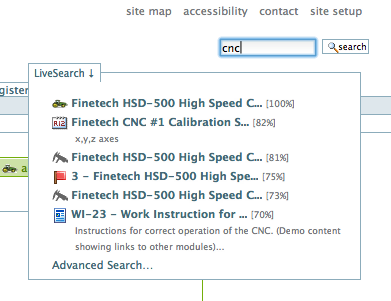 Scheduling
Asset schedules are established for regular calibration and/or maintenance of assets. The frequency of calibration will depend on how often the equipment is used, the conditions under which it is used, the manufacturer's recommendation, and the historical calibration results. The frequency can be adjusted over time as necessary and the justification recorded in Quality Systems Toolbox.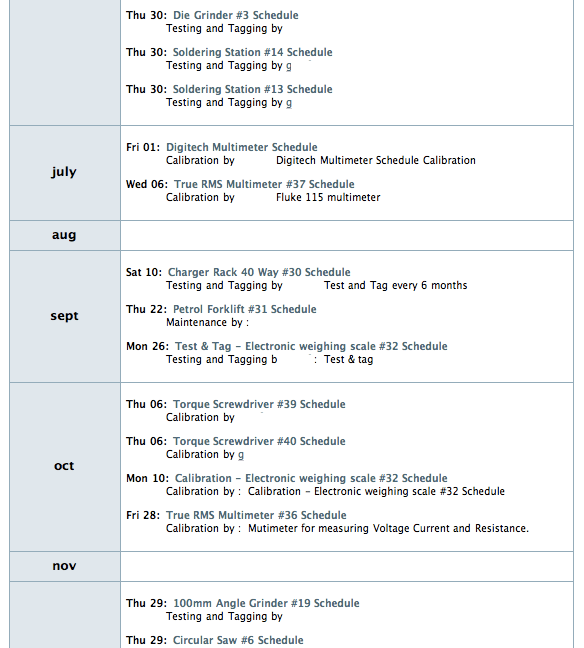 Asset schedules are presented in calendar form within the assets module. Upcoming dates can be viewed in the assets register and calibrations/maintenance due in the next 30 days will show in a portlet on the right hand side of the screen when you are in assets.
For work performed internally, use the free-form text field in the Asset Schedule to link to a calibration procedure stored in the Document Manager.
For work performed externally, the schedule will link to a provider stored in the Contacts Module. This ensures that you only need to update the contact details in one place.
Records
Records of calibration and maintenance work performed are stored in Quality Systems Toolbox. Calibration certificates or other files may be uploaded and stored with the record.
All records for a particular asset can be viewed from the records tab in the green toolbar when viewing the asset.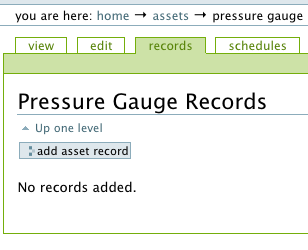 With all the records together you can easily see if schedules need to be adjusted or equipment will need replacing soon.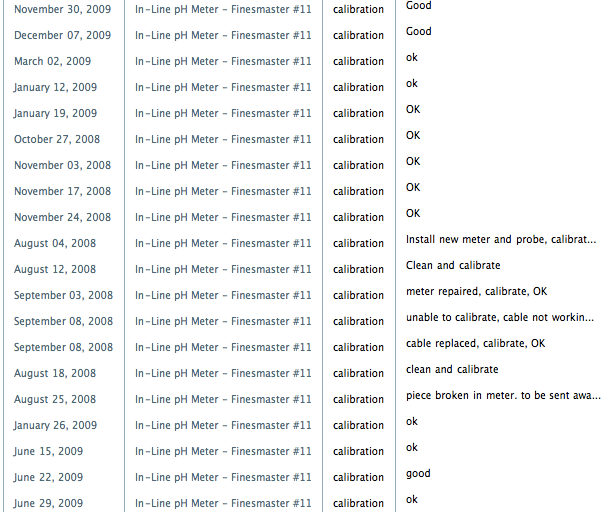 If the record indicates that the asset failed calibration, a quick link to create an Issue in the Issue tracker will be shown.